I just wanted to hop on here real quick and send out this recipe I tried that was a huge hit around our house!! It is so delicious!!!
Fresh Mozzarella Brussels Sprout Pizza
A unique take on a healthy pizza! This is a must try recipe, especially if you like Brussels sprouts.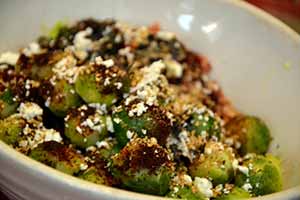 Ingredients:
4 Tbsp. olive oil

2 cloves garlic, pressed

1 large Roma tomato, thinly sliced

¼ cup pine nuts

8 oz fresh mozzarella, shredded

2 cups fresh Brussels sprouts, halved

2 Tbsp. sesame seeds

1 tsp. chili powder

1 gluten-free pizza crust
Directions:
Preheat oven to 350 degrees F.
In a large skillet over medium flame, heat olive oil and garlic; cook for 2 minutes. Add tomato, onion and Brussels sprouts. Cook for 10-15 minutes or until Brussels sprouts are soft.
Transfer mixture to a food processor; pulse until smooth.
Spread gluten-free crust on a flat surface; add fresh mozzarella, followed by Brussels sprouts mixture. Sprinkle with pine nuts. Line the outside crust with a sprinkle of sesame seeds.
Place pizza onto a pizza stone or baking sheet; bake for 15-20 minutes or until golden brown and crispy. Top with chili powder.